Looking for an Easy Leprechaun Trap and Bait Recipe For Kids? You've come to the right place!
Making themed food and crafts is always enjoyable, especially when it's fast, easy, and kid-friendly!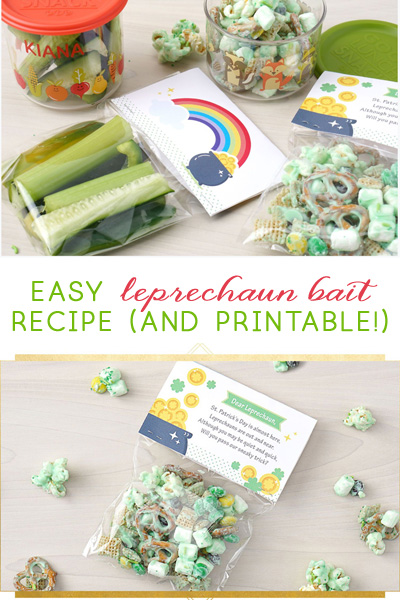 While celebrations like the Fourth of July, Halloween, and Christmas have a plethora of festive treats and projects, holidays like St. Patrick's Day are often forgotten.

Of course, there are parades and parties, but families don't celebrate St. Patrick's Day like they do the other holidays.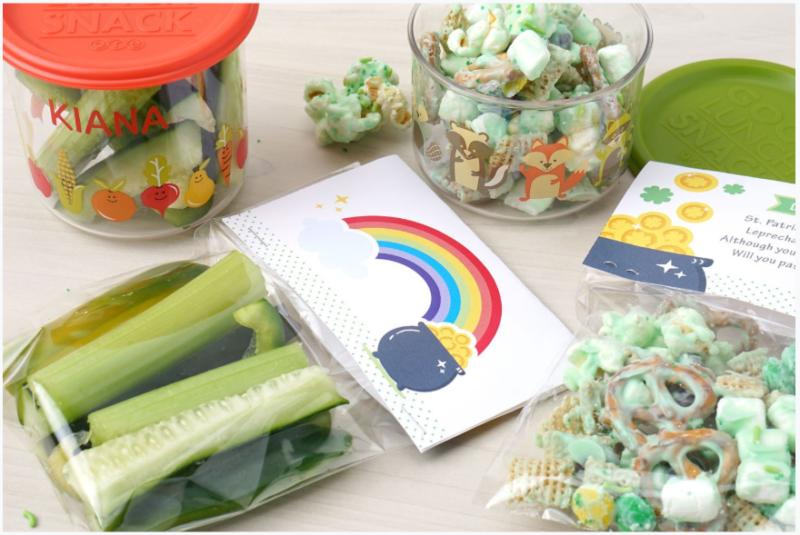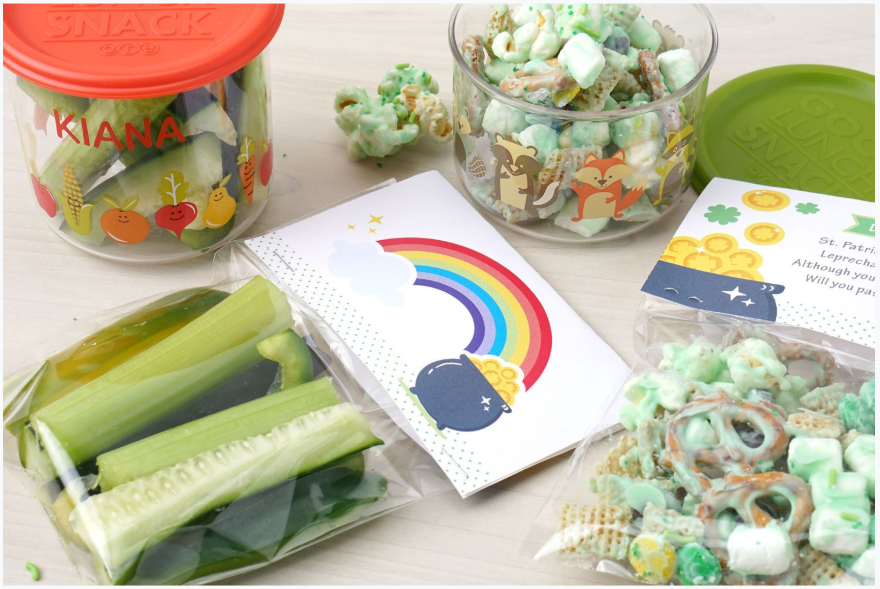 Get in the spirit of St. Patrick's Day by wearing green from head to toe and working with your family to catch a leprechaun with this free, printable leprechaun trap!
And then go make this Leprechaun Bait, the perfect kid-friendly Saint Patrick's Day treat!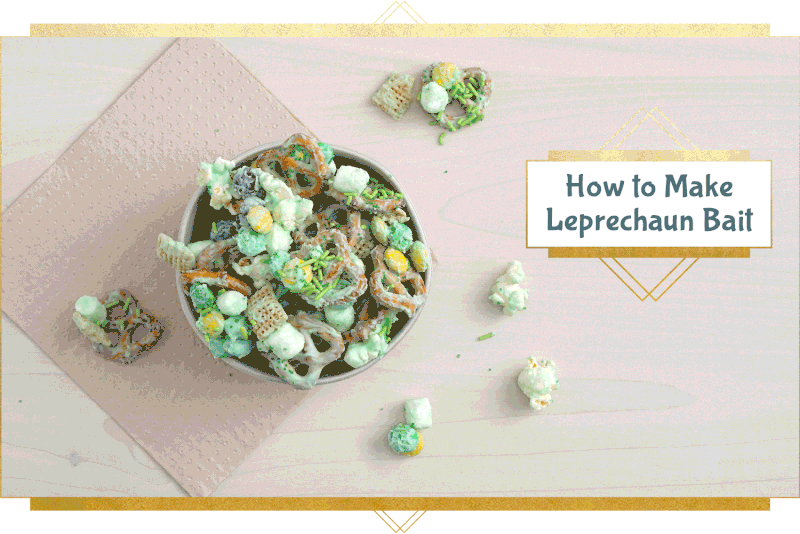 Personal Creations made a delicious recipe for this snack bait and created printables to help catch your leprechaun too. The first step to catching a leprechaun is to make a delicious snack to act as bait.
Be sure to make extra because you and your little ones will love it as well! A salty and sweet treat mix is the traditional lure, but there is also a yummy healthy option.

Simply mix together square rice cereal, popcorn, pretzels, marshmallows, chocolate candies, melted white chocolate (with green food coloring), and green sprinkles.
Leprechaun Bait Recipe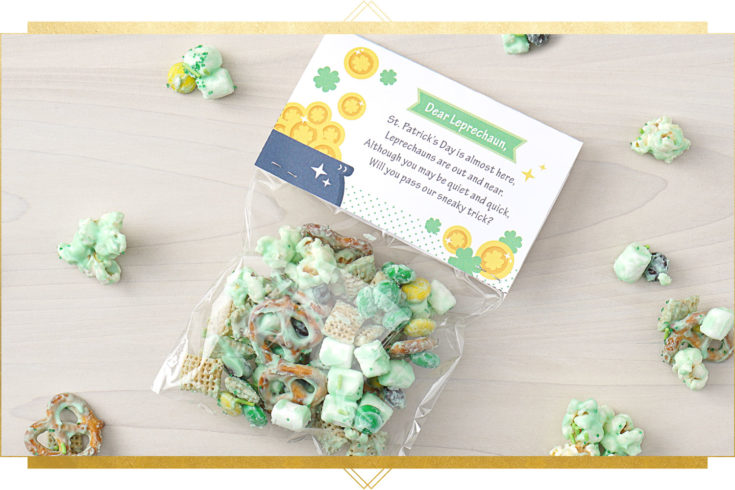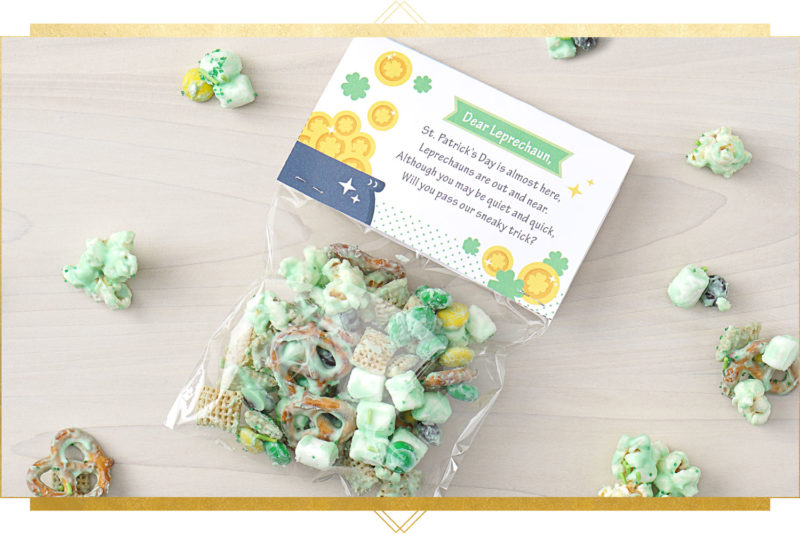 Making themed food and crafts is always enjoyable, especially when it's fast, easy, and kid-friendly! Enjoy this festive leprechaun bait recipe!
Ingredients
1 cup rice square cereal
1 cup popcorn
1 cup pretzels
½ cup marshmallows
½ cup chocolate candies
8 ounces white chocolate melts
Green sprinkles
Green food coloring
Instructions
In a large bowl, combine rice square cereal, popcorn, pretzels, marshmallows and chocolate candies. Mix together.
In a microwave-safe bowl, melt the white chocolate on low heat until smooth. Microwave for 30 seconds, and then in 15 second intervals to assure you don't burn the chocolate.
Once melted, stir in green food coloring and pour the white chocolate over your dry mix.
Stir your mix until it is evenly coated.
On wax paper, spread your mixture out evenly and top with green sprinkles.
Allow the mix to cool for 10-15 minutes. Put in bags or a bowl to enjoy!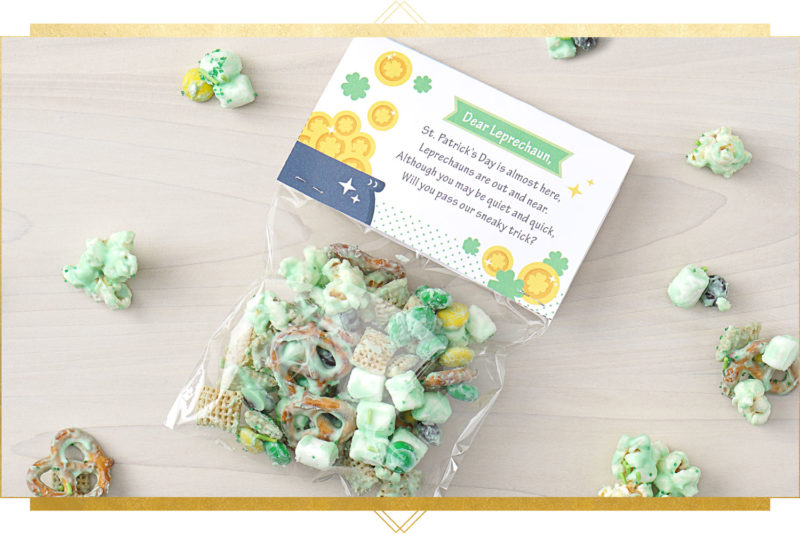 The hardest part about this recipe is trying not to eat it all! Use a leprechaun bait tag to seal your goodies for pack lunches and safe-keeping.

We also have a healthy version you can try…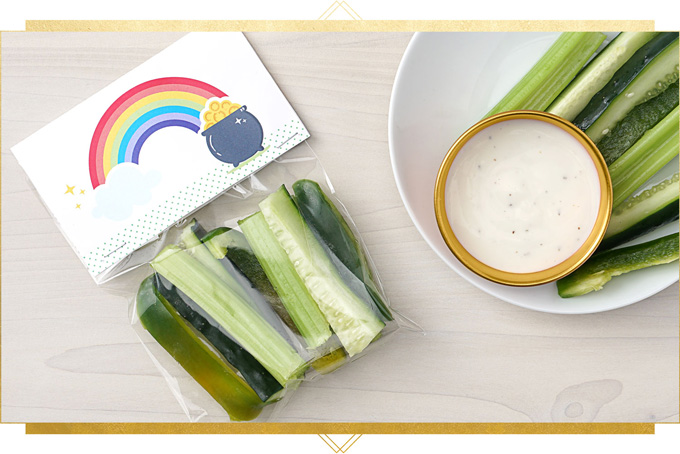 Healthy Leprechaun Bait Recipe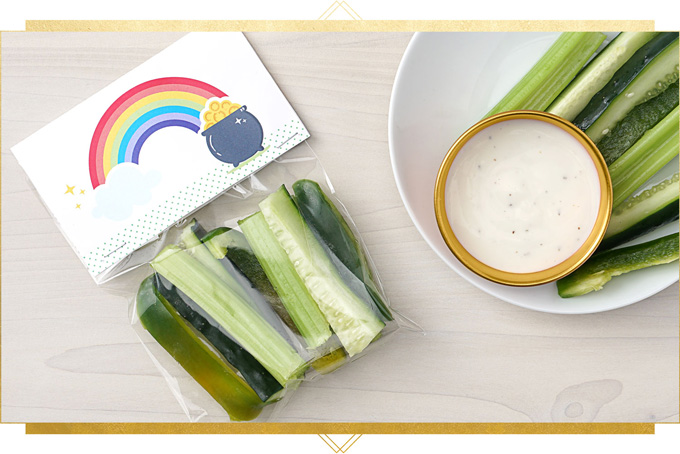 A healthy leprechaun bait recipe perfect for celebrating Saint Patricks Day with kids!
Ingredients
1 cucumber
1 green bell peppers
1 bunch of celery
Favorite veggie dip or dressing
Instructions
Thinly slice cucumber, green bell peppers, and celery sticks.
Arrange all the vegetables on a small tray, in a bowl or in a bag.
Place a small bowl of your favorite veggie dip or dressing nearby.
You can download the free printable Leprechaun Bait tags here!
Enjoy!
Thanks for reading all about our Easy Leprechaun Bait Recipe For Kids. Have a lovely day!