Looking for ways to get your kids out of the house to explore? Road trips, nature walks, and beach days are fantastic ways to encourage little ones to get involved in a photo scavenger hunt.

Kids are curious and love games. That's why a themed photo scavenger hunt is the perfect way to explore something new and have some fun at the same time.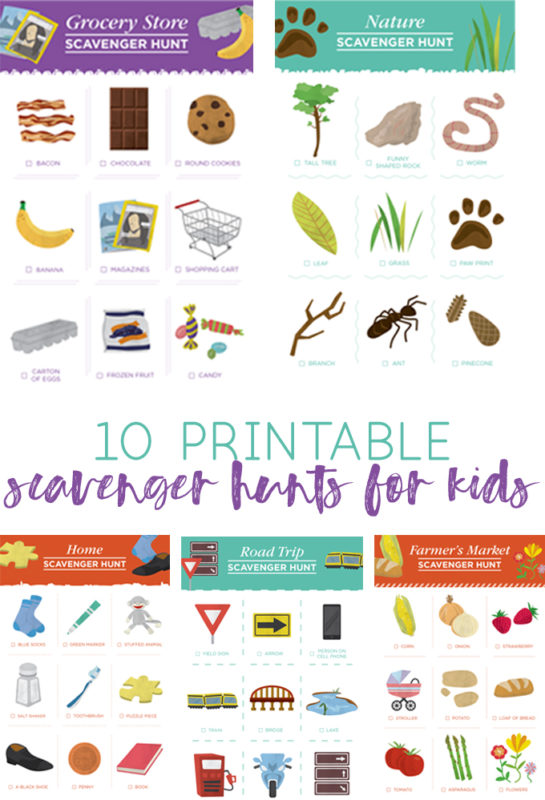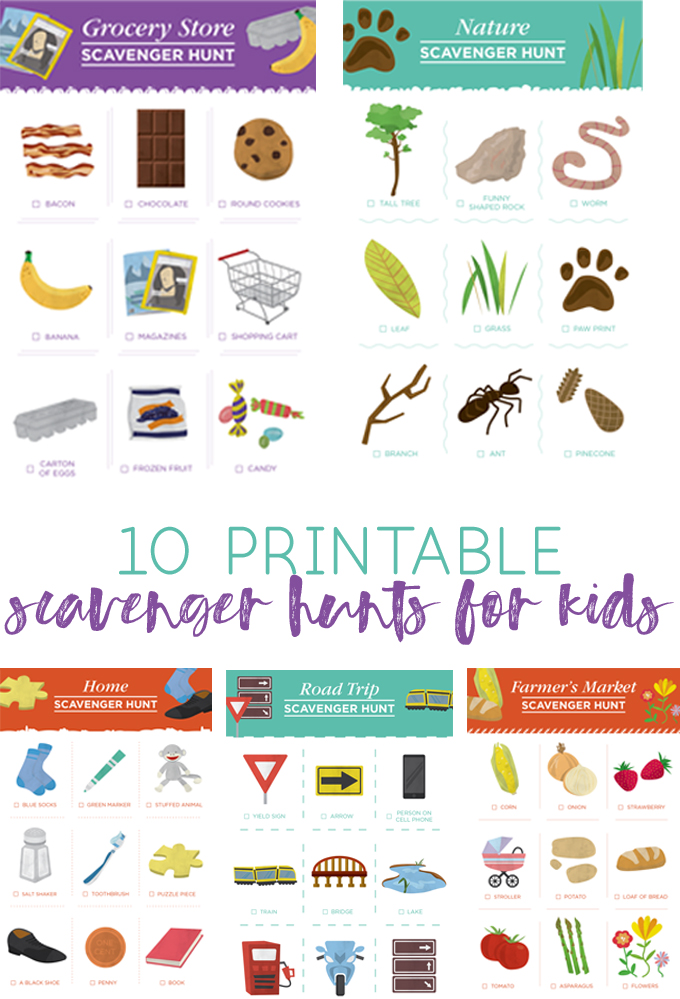 Scroll down to the end of the post to download and print out all ten cards!


Supplies You'll Need
Before you begin, double check to make sure you have the following supplies:
A smartphone or camera
Pencil or pen
Scavenger hunt lists or printables
A grand prize for the winner
Photo Scavenger Hunt Guidelines
The rules are simple, but you're also free to be as creative as you want. For example, will you set up teams? Will you add on bonus items to your scavenger hunt list?

Give each player a list of items to look for in the location you choose. The first person to find all the items and photograph them within the time allotted wins!

Step-by-step instructions:
Select a location and theme
Assign someone to be a judge
Decide if you want to separate into teams (in each team, always put kids with adults for balance)
Set clear boundaries within the location
Set a timer. An hour is plenty of time for everyone.
Award the winner the grand prize
For photo scavenger hunt ideas, find your favorite themed printable by Shutterfly below.

Zoo Scavenger Hunt
Round up the crew and spend the day visiting the animals! This makes it fun for the kids to check out all the animals they're interested in seeing in person.

Your list for each player will include tigers, monkeys, zebras, penguins, reptiles, … and don't forget to add a couple of souvenirs as well as taking a photo with the zookeeper to the list!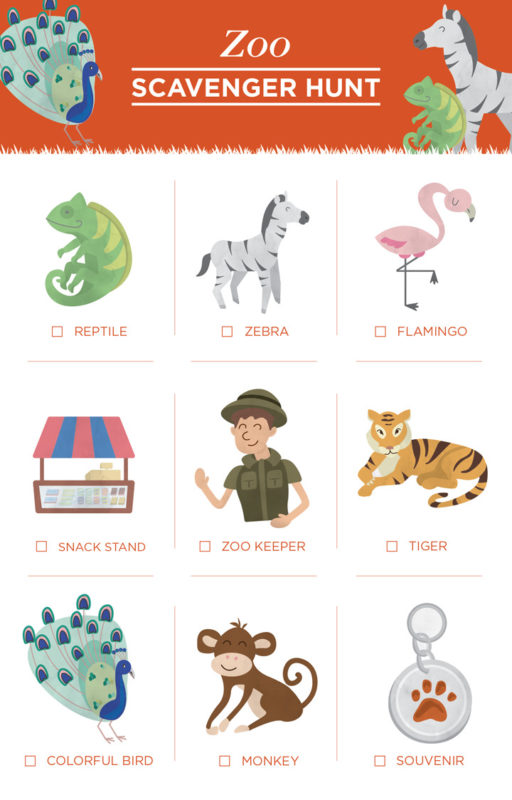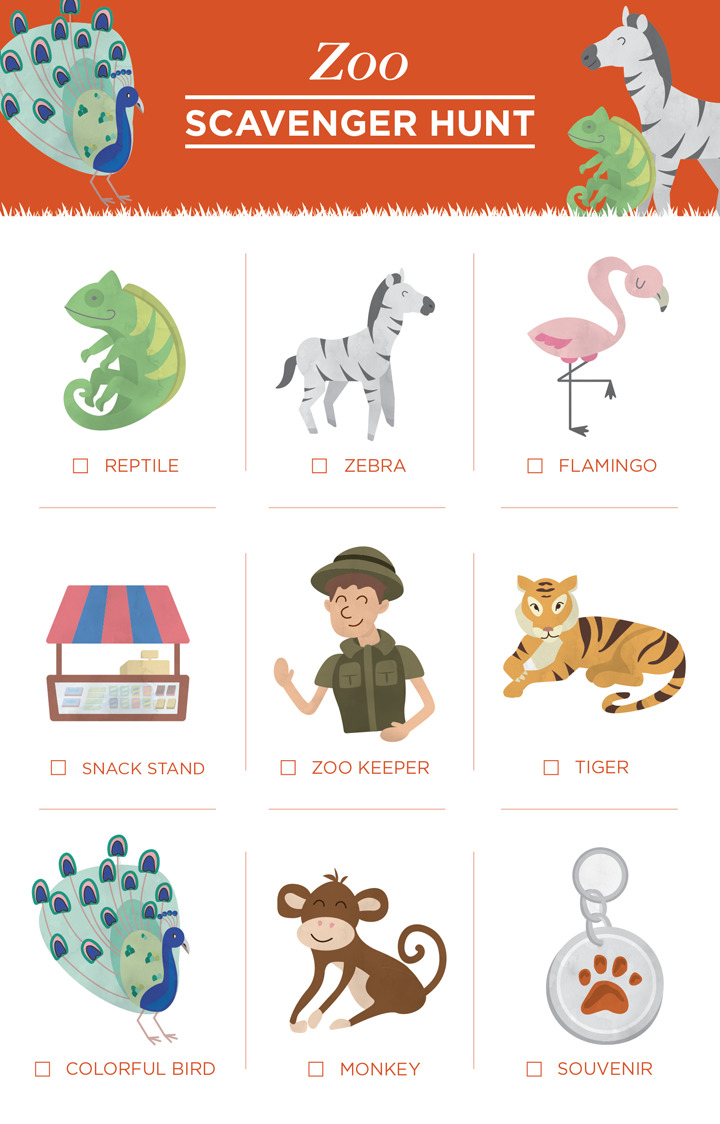 Road Trip Scavenger Hunt

Road trips to new places are great ways to spend time together with your family and friends. You'll all journey through lookout points, explore bridges, and check out nearby trains.

But remember—safety first. Pay attention to your surroundings.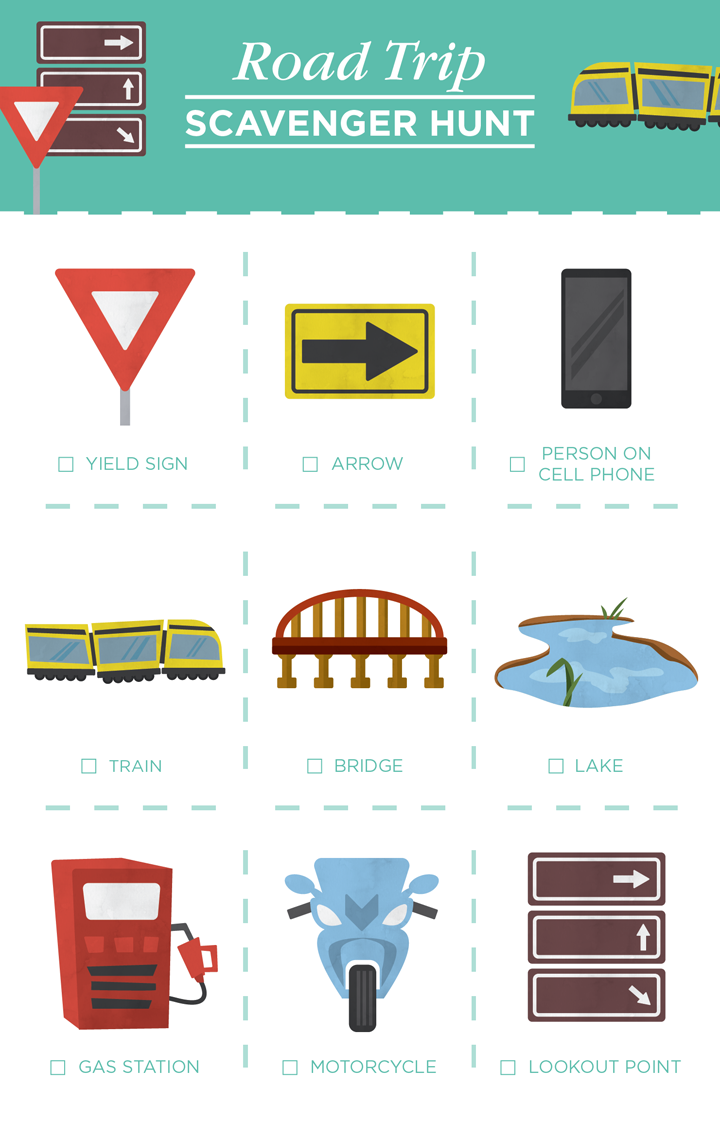 Neighborhood Scavenger Hunt

If you don't feel comfortable carrying out a scavenger hunt during a road trip, there's no problem with staying local! Kids will love this because they can tell their friends to come along and join the fun.

You'll all have fun discovering the ins and outs of your community. Plus someone may discover hidden places for the first time!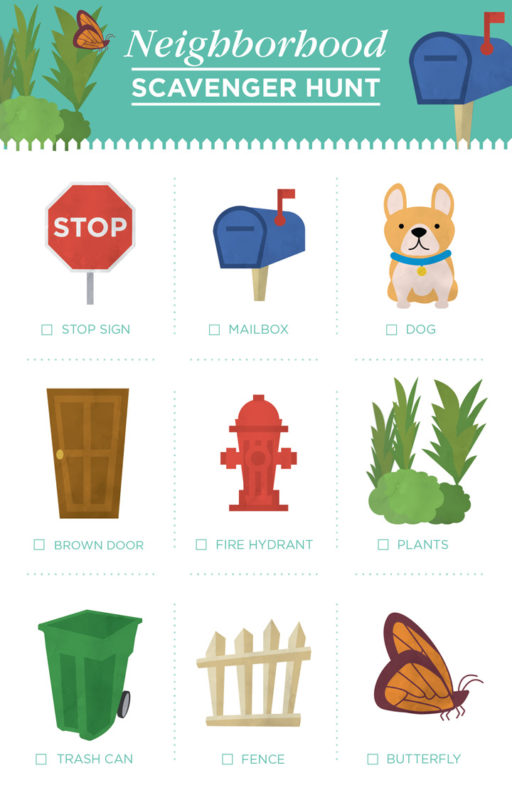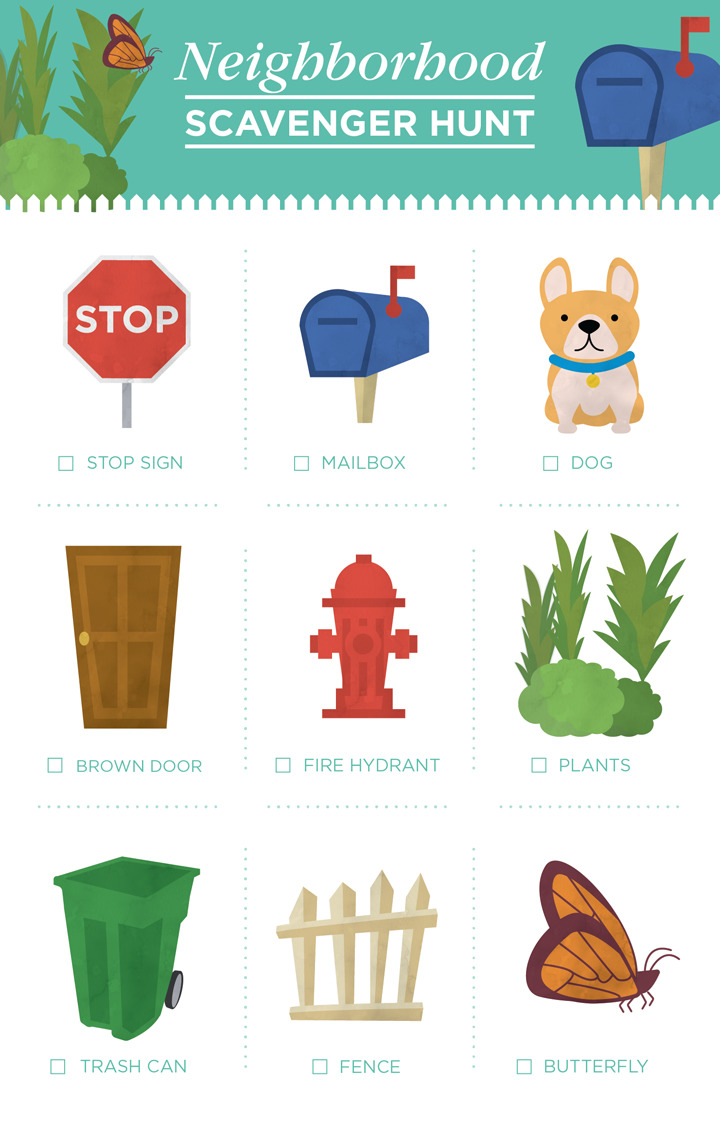 Home Scavenger Hunt

This is perfect if you're squad is made up mostly of younger kids. You can keep your eye on them in a small environment, while they have tons of fun!

You don't need a lot too. If you've got markers, puzzles, and spare change, then you're all set. Keep your home clean by reminding everyone to help clean up after the scavenger hunt.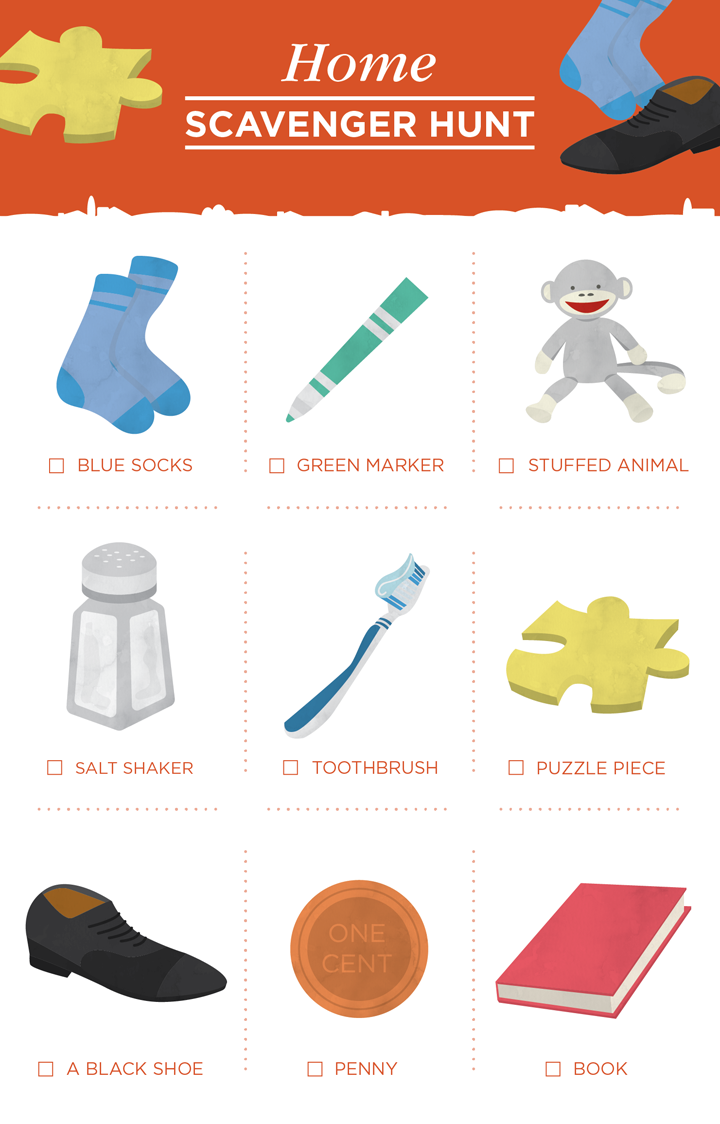 Farmer's Market Scavenger Hunt

Not only are farmer's markets great places to grab all your seasonal goods, but they're also awesome for mingling with your neighbors. The kids will love to hunt for strawberries, lovely flowers, or baked bread.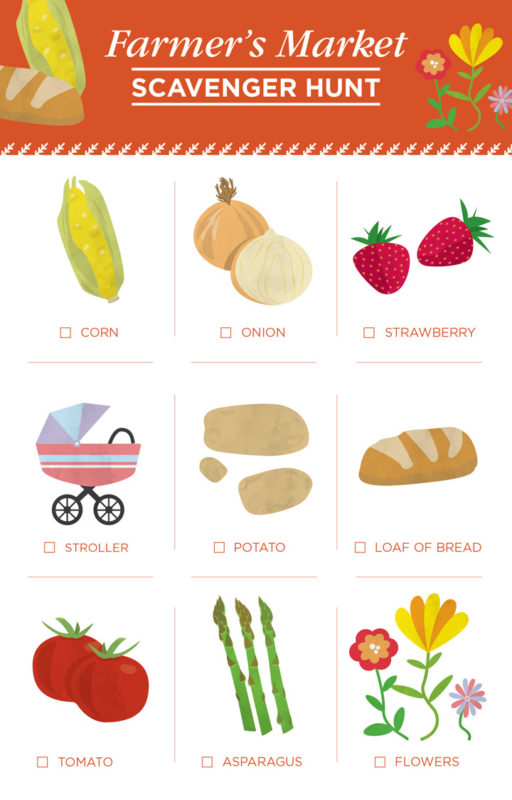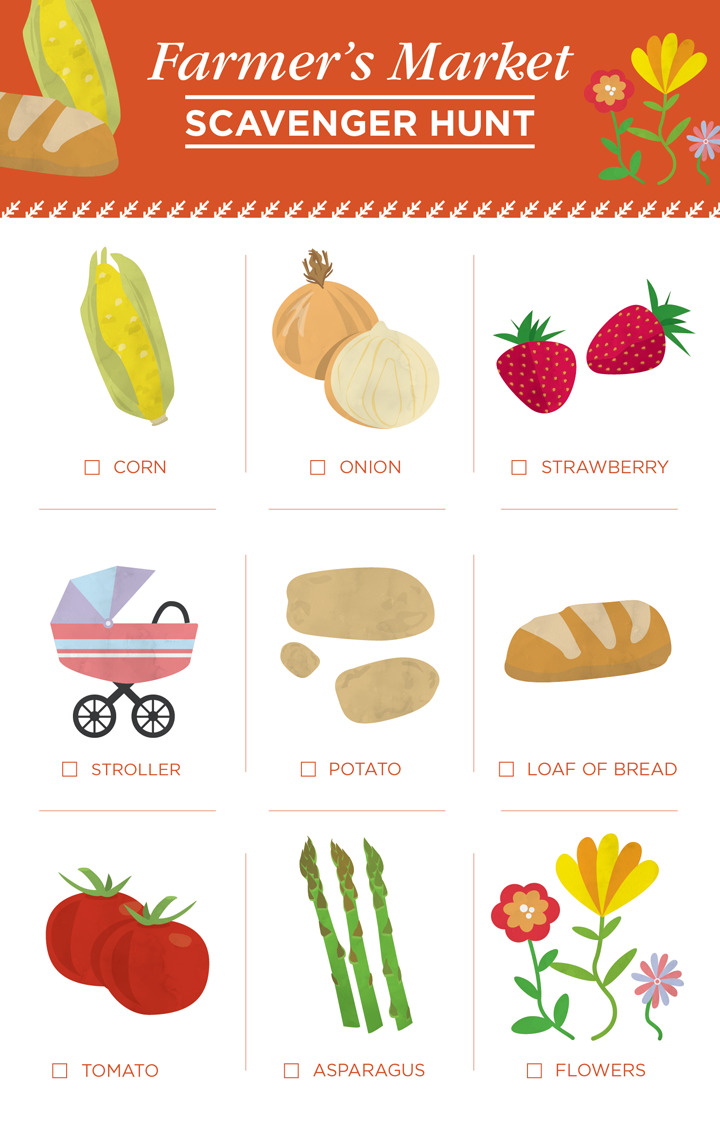 Beach Scavenger Hunt

Fun for every age, there are tons of items to find at any beach. It's a great way to get everyone outside to enjoy some fresh air and fun under the sun. Just don't drop your phone in the water when you snap your pics!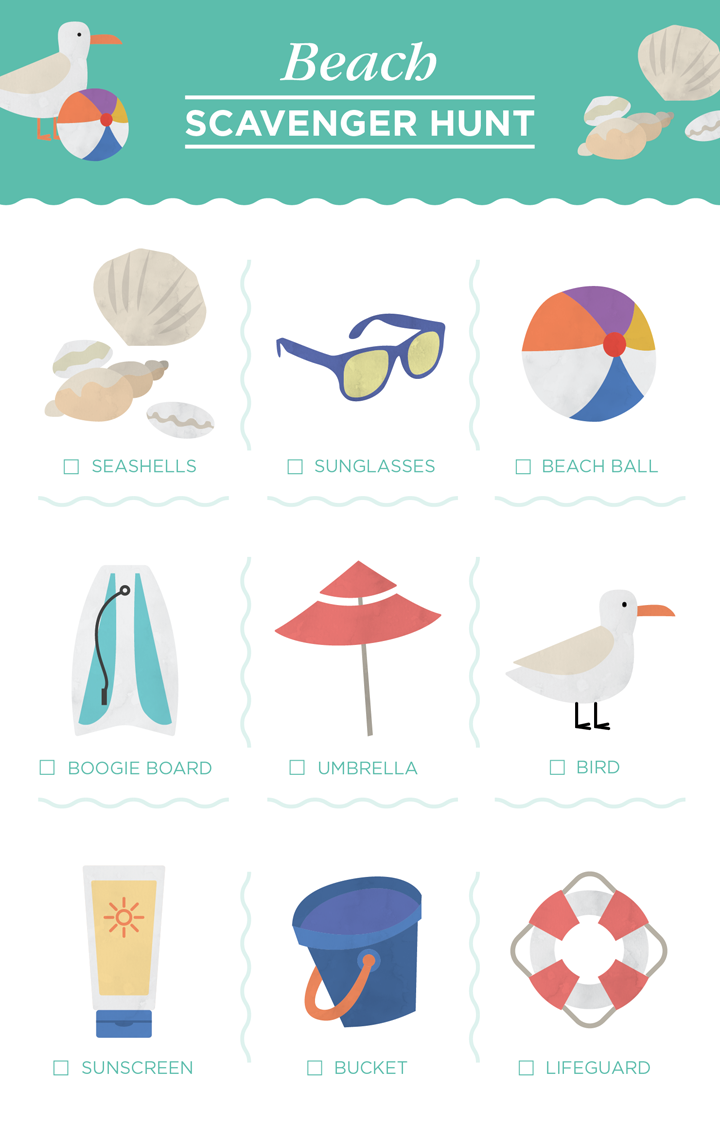 Nature Scavenger Hunt
There's nothing more relaxing than being in nature. Nature watching is always exciting especially, when surrounded by beautiful trees, leaves and sunshine—a perfect weekend activity for the whole family.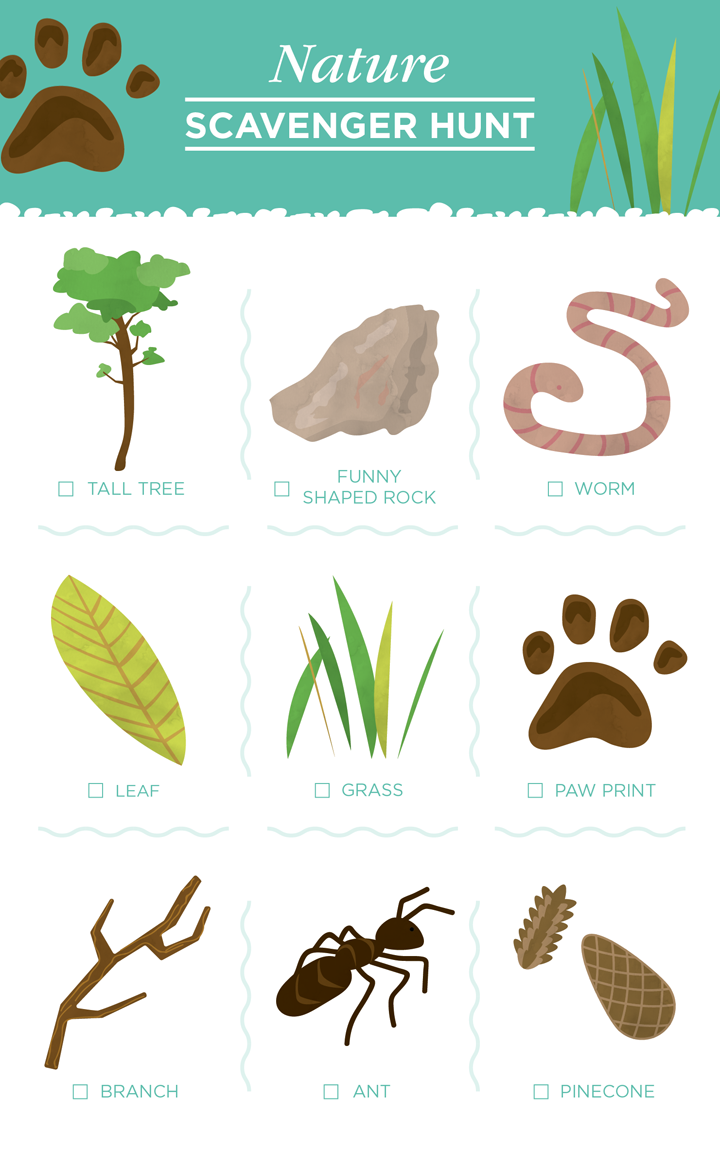 Grocery Store Scavenger Hunt
Keeping the kids entertained at the grocery store can be a bit tricky. But, if you incorporate a scavenger hunt into the mix, you'll have a happy crew and get your shopping done we well. The challenging part will be to not purchase those cookies.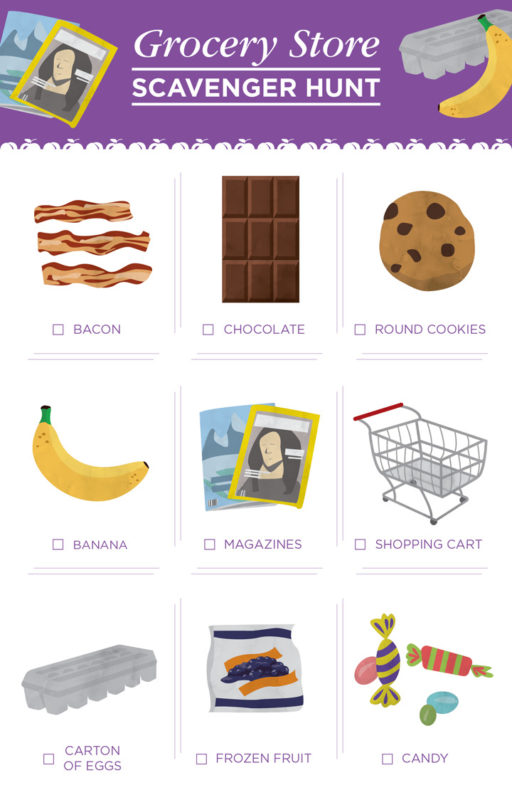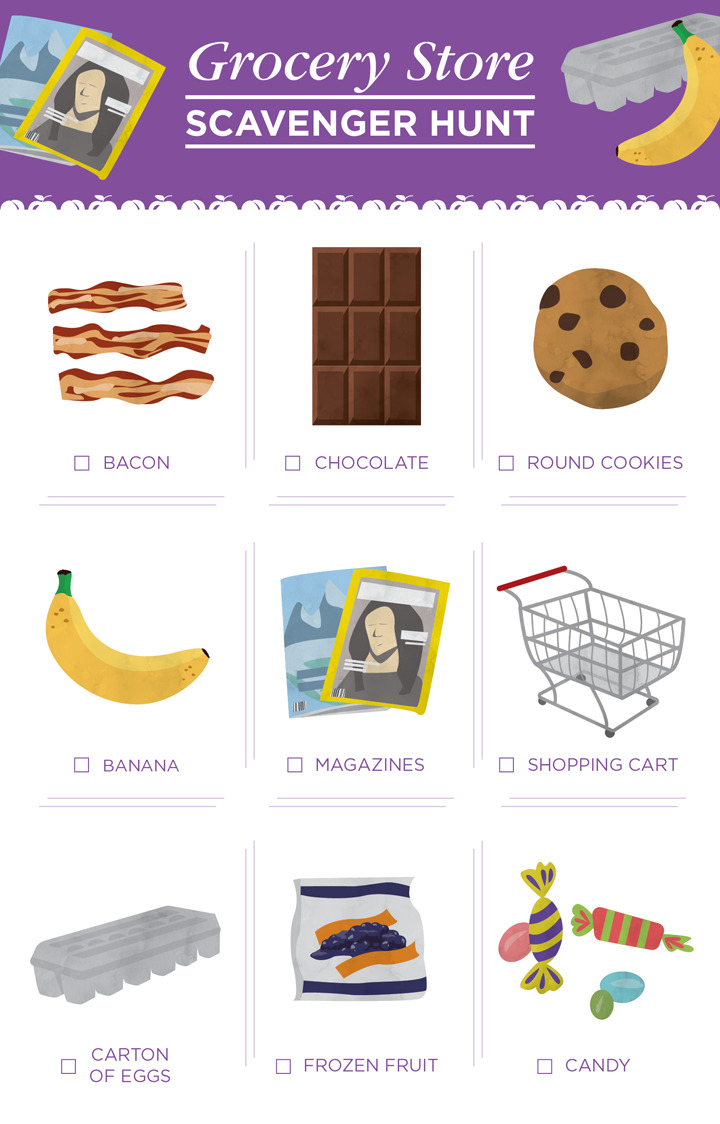 City Scavenger Hunt
Going into the city is always an adventure. The hustle and bustle, loud noises and groups of tourists keep the city exciting. Navigate your way through the streets while snapping fun pictures of taxis and bikes.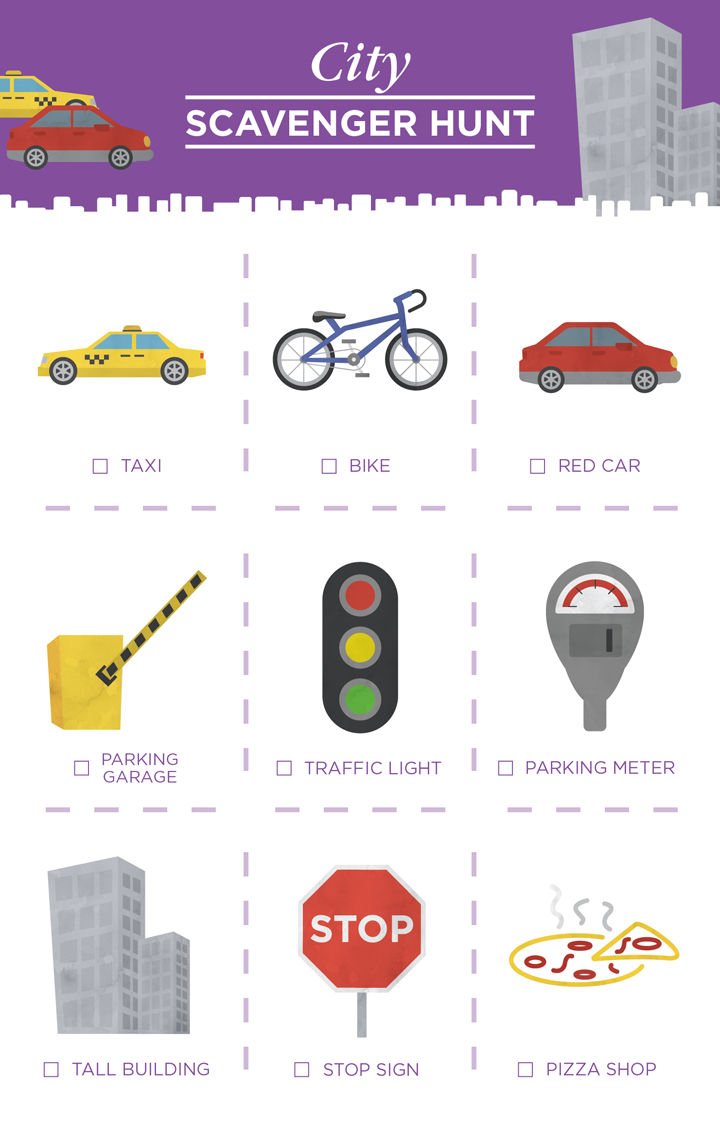 Airport Scavenger Hunt
Traveling can be a little stressful and hectic. But once you've made your way through the airport security line, you'll have to kill some time before your flight. Have fun snapping someone sleeping, suitcases and laptops.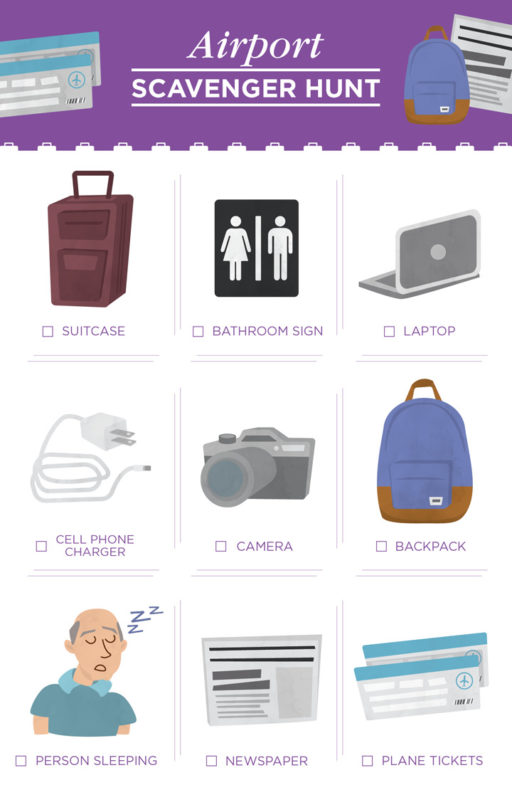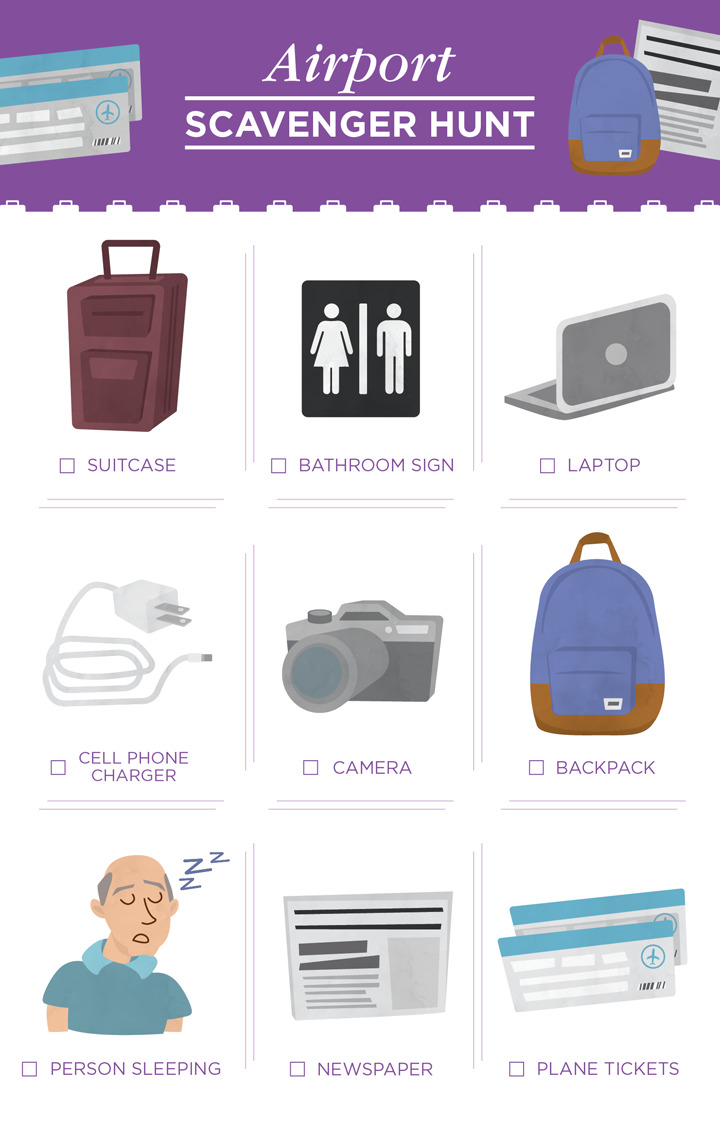 Keep your kids entertained with a well-planned scavenger hunt next time you're looking for something to do! They will love spending time outside and at the end of it they can share their photos of what they've found.