Let's talk today about procrastination. Procrastination is defined as putting off or delaying something that you need (or want) to accomplish. Putting off difficult tasks is something we all do at times, and while it may seem harmless on the surface, chronic procrastination can be a real hindrance in achieving your goals.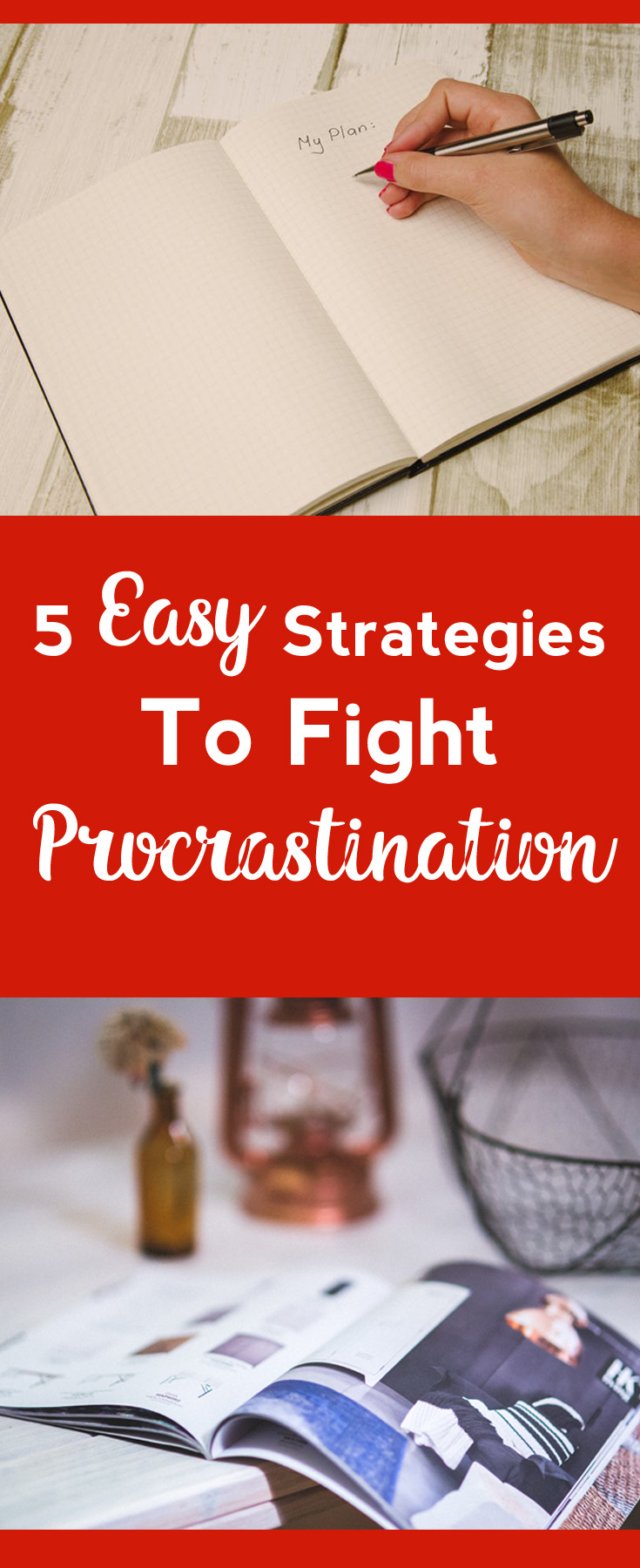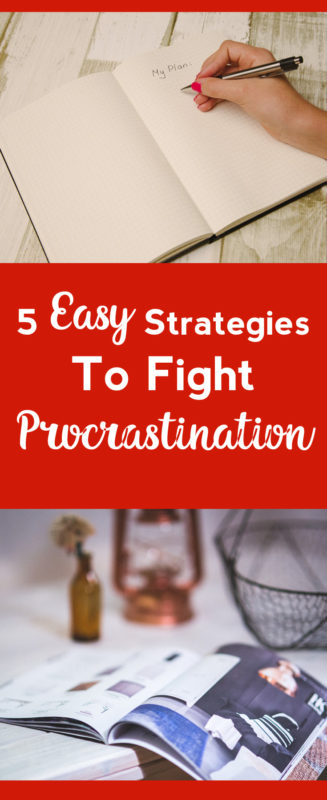 It doesn't have to be this way, though. Through a few simple and manageable strategies, you can begin to refocus your efforts, manage your time, and accomplish the tasks you've set out to do.
Whether it's starting a blog, finishing a project, having a difficult talk with a family member, or scheduling an appointment you've been putting off, ending your procrastination tendencies will not only help you check things off your to-do list (which is always satisfying), but will make you happier and build your self-confidence. Today, I am sharing with you 5 easy strategies to fight procrastination. Try one, or, better yet, try them all and watch your to-do list shrink.
Break Your Goal Up into Manageable Parts. Usually, when you have a large goal in front of you, whether it's writing a book or organizing your home, you can't help but look at where you are and focus on how far you have to go.
This is a self-defeating strategy, though, as this tends to make you overwhelmed before you even start. Think of your goal in terms of small, manageable tasks. If your goal is organizing your home, instead of focusing on all 3000 square feet of your home and wondering how you'll ever accomplish your task, commit to small steps each day.
Spending just 10 minutes a day sorting, donating and organizing will get you to your goal, and will feel much more manageable than telling yourself you will organize your entire home on a Saturday afternoon.
Likewise, if you have a trunkful of store returns you need to make, commit yourself to making just one return a day. While spending a whole day making returns can feel overwhelming, making one (or two) returns in a day is manageable and doable.
Reward Yourself for Your Progress. Truly, I find that the happiness and confidence that comes from meeting your goal can be reward enough, but if you want to take it a step further, assign a small reward for meeting your goalposts. Whether it's an afternoon at a museum, a new lipstick, or a night out with friends, small rewards can help you achieve big results when trying to meet your goals.
Set your first goal, such as finishing the first chapter of your book, choose your reward, and get to work. Alternatively, you can help further foster good habits by partaking in a special treat that you only get while you're working towards your goal.
For example, if there's a special tea you love, you can allow yourself to enjoy a cup of it while you're making those phone calls you've been putting off. If there's an audiobook or podcast you really enjoy, make a rule that you get to listen to it while catching up with laundry.
Figure Out Why You May Be Procrastinating (and Try to Fix the Source) Oftentimes, when you're procrastinating on a task, there's a reason, one which often can be fixed.
If you're procrastinating having a hard conversation with a friend, because you're afraid of offending, focus on the stronger friendship you'll have with your friend once you bring the issue to light. If you're procrastinating on writing your book, because you don't feel like you have the time, commit to waking up half an hour earlier. If you're procrastinating cleaning your home, because you're feeling tired, take a short nap to solve the problem, and try again.
Remember Not to Let Perfect Be the Enemy of Good. It can be overwhelming to expect perfection of ourselves. Overwhelming and unrealistic. If you're scared of messing up or doing something less than perfectly, you may never get started.
Perfection is an illusion. Start the blog, begin your business, write your book, organize your garage anyway. It may not be perfect when it's done, but it'll most likely be "good enough", which is much more realistic, anyway. You can always go back, edit and further perfect your work, but that is must less overwhelming that starting from zero and expecting perfection immediately.
Set Yourself Up for Success. What habits and choices can you make to set yourself up for success and ensure your best effort?
For some people, taking a shower and getting dressed first thing in the morning puts them in "work mode" and allows them to get the most done. For others, it's ensuring they get a solid 8 hours of sleep a night. For still others, it's scheduling their day out the evening before to ensure maximum productivity.
Experiment and do what works best for you. Whether it's hiring a babysitter for a few hours each week, or starting your day with a healthy, balanced breakfast, setting yourself up for success will go a long way towards achieving your goals.
Procrastination is a problem that affects us all. But by putting a few small, manageable strategies in place, you can put an end to procrastination and meet (and surpass!) your goals. You'll feel happier, less overwhelmed, and ready to tackle the next, bigger goal on your list.
I know this is only the tip of the iceberg as far as fighting procrastination goes. I'd love to hear your thoughts! Leave a comment with how you successfully overcome procrastination and reach your goals!
Thanks for reading all about my 5 easy strategies for fighting procrastination. Have a fantastic day!