Need a trendy way to display your hanging succulents? I've got you covered with my Hanging Succulent Planter!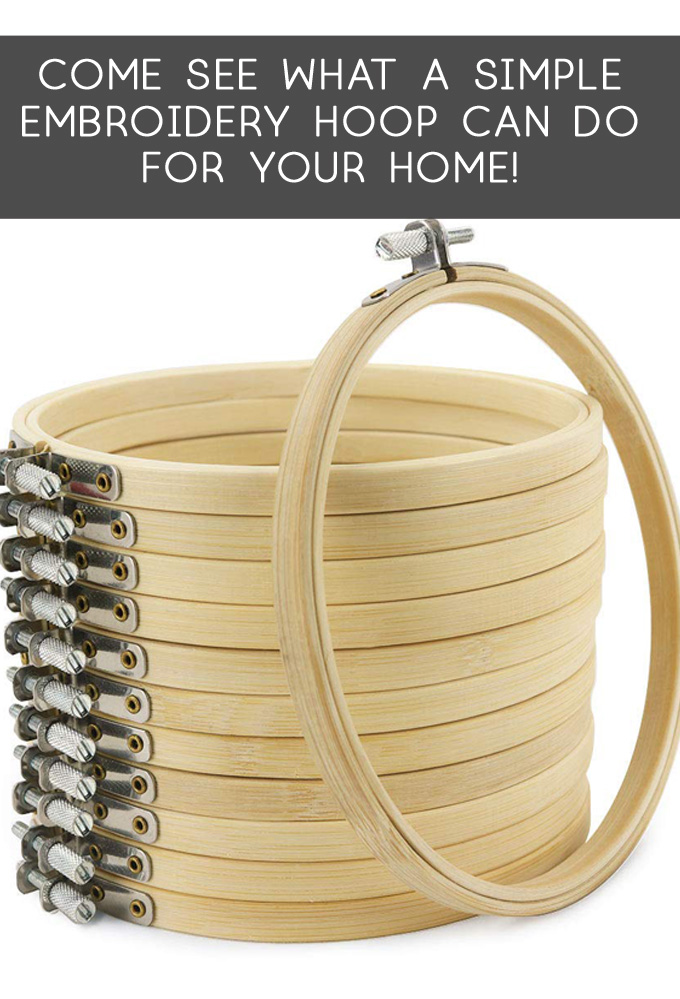 I'm Courtney from The Kitchen Garten, and I love to help others with gardening, DIY projects, and fresh recipes. For more garden related crafts and resources, check out my blog!

Succulents. The low-lying trendy plant they are. It's actually taken me quite a while to develop a love for these particular plants. And it wasn't until I stumbled upon String of Pearls succulents that I actually considered giving them a try. Most of what I'd seen were the hens and chicks, and I wasn't impressed.
Granted, I am the type of person who wants everything I plant to bloom and blossom, so naturally succulents weren't in my wheel house. However, I've come around to their way of low-maintenance thinking.
While I love the look of succulents in a low planter on a table, I wanted a bit of green in the kitchen. And my counters didn't need anything else sitting on them.
It's a daily struggle to keep them free of toys, socks, rubber bands, Nerf bullets. You name it, and it has probably been on my counter in the past week.
So to keep the counters less cluttered, I immediately thought of a hanging succulents planter.
DIY Hanging Succulents Planter
You might not immediately think, embroidery hoops, of course that would make a hanging planter! But I knew that embroidery hoops were already a lovely light wood color, and that their adjustable tension and double hoops made them perfect for gripping some kind of rope for hanging.
While I originally planned to stain the hoop, once I paired it with the bowl, I liked the colors together. Our house is a bit midcentury, and the wood of the hoop was the perfect look.
And did I mention that these hoops were my Yaya's (Grandmother). I inherited her sewing items, since my mom isn't exactly a crafter… love you, Mom! So this hoop has to be 30+ years old, and was in excellent shape.
I also picked up a cheap bowl at The Dollar Tree for my hanger. You really can't beat $1 for a ceramic bowl, and I loved the blue/green color.
For the actual hanging, I went with a 1/8in. braided synthetic cord. It was able to hold quite a bit of weight and wasn't super bulky. Finally, I had originally planned to use String of Pearls succulents, but decided on String of Bananas. Sounds silly, but that's exactly what the plant looks like!
I ordered from a seller on Amazon, and they had the best customer service. JMBamboo accidentally shipped me the wrong succulent, but once I messaged them, they immediately sent the correct one out. I was very impressed with their prompt attention and the great condition the plants were in when they arrived.
Succulents With No Drainage
Since I used a ceramic bowl, there are no drainage holes for the plant. Succulents can actually survive well in this type of planter. It does require some careful watering, because you don't want the roots sitting in water.
Start first with a succulent or cactus potting soil for the best drainage. Then you can check out this great article from Succulents and Sunshine on watering succulents in planters without drainage holes. Now, on to the supplies and instructions!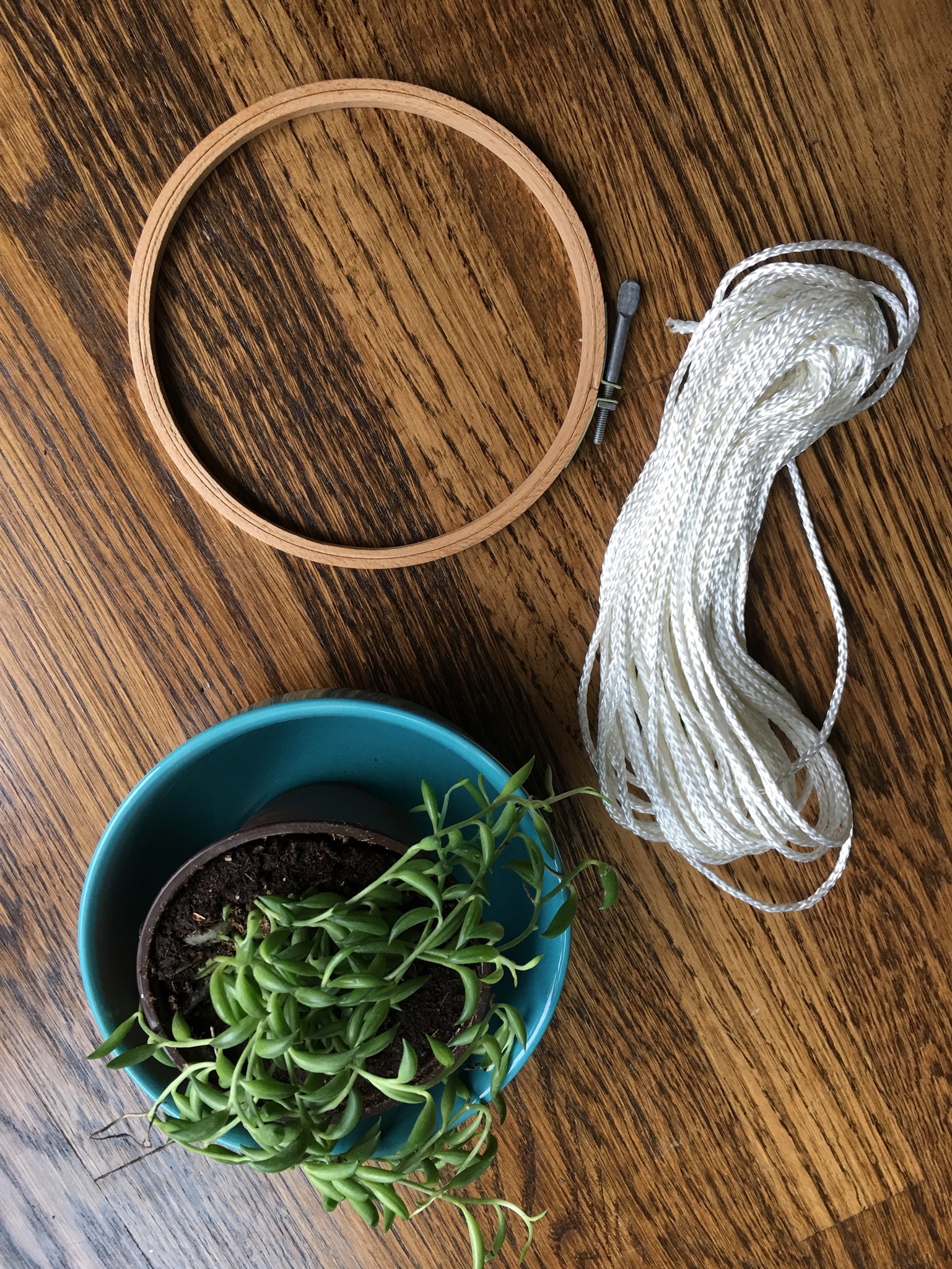 Supplies
1 Trailing Succulent Plant
1 Embroidery Hoop
1 Ceramic Bowl (Choose bowl based on embroidery hoop size)
1 pkg 1/8in. Synthetic Cord
1 S-hook or Ring
1 screw-in hook
The How-To
First make sure your embroidery hoop and bowl fit. You want the hoop to come up under the lip of the bowl, but not be at risk for the bowl to slip through the hoop.
You also want to avoid a bowl that is too big and doesn't go far enough up the bowl. This will make your hanger unstable.
Next, decide how long you would like your planter to hang. Then cut three lengths of cord, adding on 3-inches to your hanging length for knots. Tie a secure knot on the end of each length of cord.
Loosen the outer ring of the embroidery hoop and push through each of the knots, spreading them out around the hoop. Then tighten the tension of the outer hoop so that the knots cannot be pulled through between inner and outer hoops.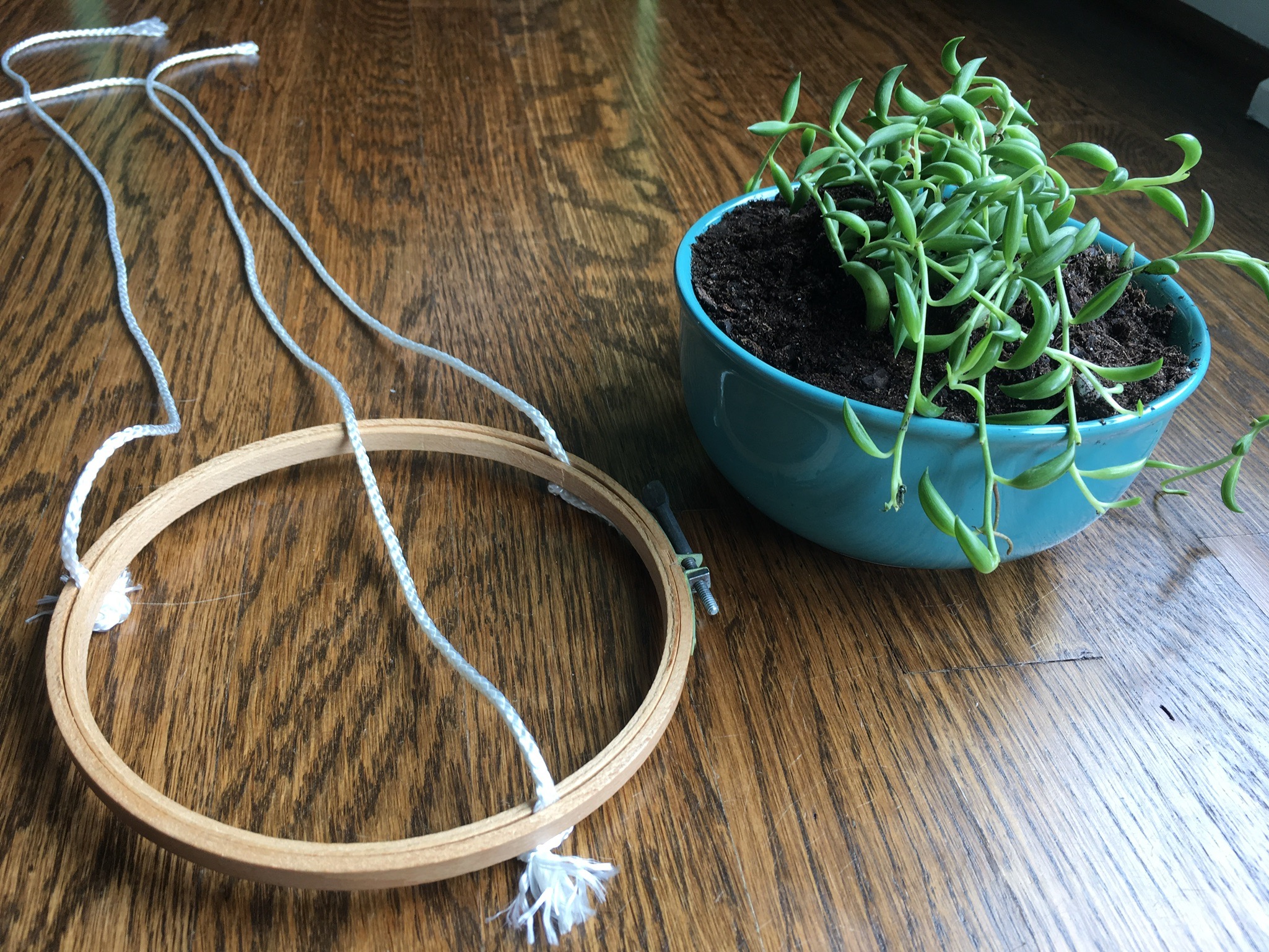 Plant your succulent, or whatever plant you choose, in your ceramic bowl. Clean up the edges and sides just in case any soil is lingering. Place bowl inside hoop.
Lift up on your lengths of cords until they are taut. Gently lift your hoop and planter off the ground and create a knot that allows your plant to hang balanced.
This took me two tries, but it's really not too difficult. (I couldn't resist including this picture of my giant hand above the tiny planter. Ha!)
Use an S-Hook or O-Ring to hold up your planter. Then hang it from a hook you may already have hanging, or you can use simple screw hooks mounted to suspend your planter.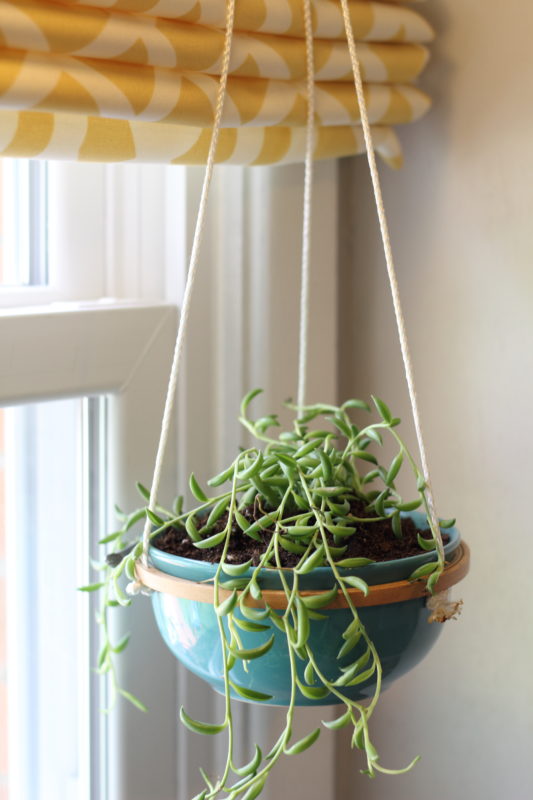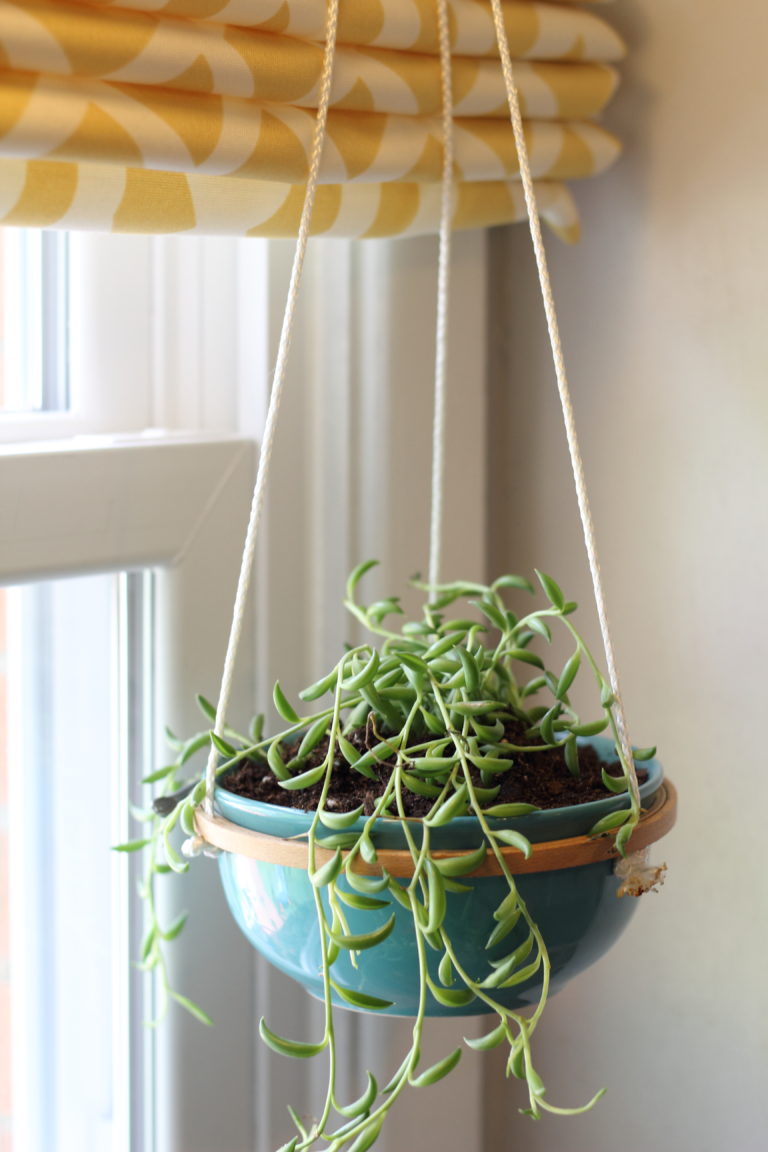 Finally, enjoy your handiwork and new hanging succulents planter!
Thanks for reading all about our Hanging Succulents – How to Make a Hanging Succulent Planter! Have a lovely day!