Happy Friday, friends! This is an older post for a chalkboard vase (that I used to sell in my Etsy shop) that I revamped a bit. These are super easy to make, and are perfect for gifts!
These chalkboard vases are so easy, you can even save yourself a step and leave off the candlestick pedestal!
Materials:
vase (Dollar Store is great for these)
chalkboard paint
candlestick (the best selection is at thrift stores, though the Dollar Store may have some glass ones worth trying out)
adhesive
chalk
Step 1: Take your vase (mine came from Dollar Tree and I just love the shape of it….therefore I bought ten) and give it a few coats of chalkboard spray paint. Or, if you are like me, use a cheap black spraypaint for the first two coats, and the much more expensive chalkboard paint for the last two.
Step 2: Take your candlestick of choice and your adhesive of choice and attach.
All that's left is to add your flowers, branches, etc., add a message, and admire.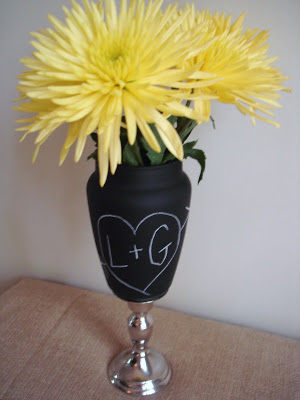 I would be very surprised if this Lovely doesn't make an appearance on my holiday mantel…maybe I'll make a second to match? Not sure, either way, I love it.
Please let me know if you end up making one! Would love to post a link here…as well as get other ideas for myself:)