Looking for FREE Paw Patrol printables? I'm here to help! Sharing lots of free Paw Patrol printables for kids activities and parties!
Paw Patrol is one of these kids shows that almost everyone has heard of, whether you have kids or not.
In case you're not in the know, though, Paw Patrol is an animated kids show created in Canada.
It's about a kid named Ryder who leads a group of search and rescue dogs. They call themselves the Paw Patrol.
In the United States, this show can be seen on Nickelodeon, as well as streamed on CBS All Access.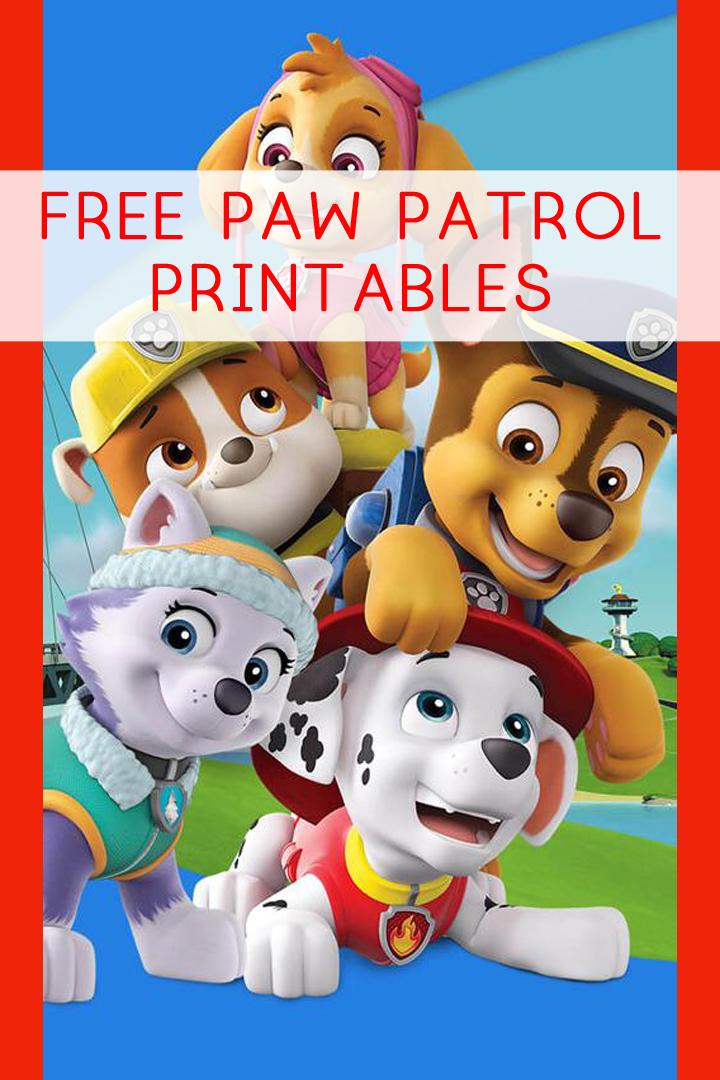 How to Print These Free Printables
Most of the links below will give you step-by-step instructions for printing.
If you have a good home printer, you can easily print these at home.
The type of paper will depend on the printable. For example, coloring sheets print just fine on standard printer paper.
Water bottle labels and stickers print best on sticker paper (learn about stickers printers and best paper to use if you print a lot of stickers).
If you're printing things that will use up a lot of ink, it may be best to professionally print on either matte cardstock or gloss photo paper.
Free Paw Patrol Printables
Paw Patrol Printables
Looking for FREE Paw Patrol printables? I'm here to help!
Sharing lots of free Paw Patrol printables for kids activities and parties!
Photo Credit: www.nickelodeonparents.com
Is your kid a fan of Paw Patrol? Then you'll love this DIY Marshall paper craft from Nickelodeon parents!
All you need is the free printable template, Scissors, Glue, and a Craft Knife.
Photo Credit: www.nickelodeonparents.com
Potty training just got a little bit easier!
You can print out this PAW Patrol potty training printable and color in one of the paw prints each time your child successfully completes a task.
Kids can easily and visually track their progress and leave diapers behind with their favorite pups.
Photo Credit: www.supercoloring.com
Free printable coloring pages are one of my favorite activities for kids!
Print these out (there are several designs), grab some crayons, markers or colored pencils, and you have an easy kids activity.
Photo Credit: www.beeshower.com
This site offers several designs of free printable Paw Patrol baby shower and birthday invitations!
Simply download, and then open in either Microsoft Word or Photoshop to add your party info.
Photo Credit: www.abbikirstencollections.com
Here, Abbi Kirsten Collections shares some free Paw Patrol printables, as well as her own free photo props!
All you need is some glue, a printer and some wooden dowels or skewers to create your own photo-booth ready decorations!
Photo Credit: www.freepawpatrolprintables.com
Cupcake toppers are some of my very favorite ways to inexpensively decorate for birthday parties.
These cupcake toppers are super cute, and can be used for things other than cupcakes!
Print them out as stickers and attach to water bottles, or to give out as party favors. You can also decorate cups, plates or snack bags with these printable cupcake toppers.
Photo Credit: eng.ohmyfiesta.com
Prefer cake over cupcakes? We have you covered!
These free Paw Patrol cake toppers are perfect for decorating either a homemade or store bought cake!
You can also print these out and use as table decorations!
Photo Credit: asimplelifeandeverythingnice.com
These labels are SUPER cute for any Paw patrol birthday party, get together, or even just an afternoon treat at home!
This site is offering you 8 different designs of chip bag labels, as well as capri sun juice pouch labels.
Such an easy and inexpensive way to personalize your Paw Patrol party.
Photo Credit: boymamateachermama.com
This takes you to a super cute Paw Patrol Find the Badge printable game!
The purpose of this game is easy!
Simply find all the badges and match them to the character in the show before anyone else does! You could also structure this game so it isn't competitive--either way is fun for kids!
Photo Credit: ellierosepartydesigns.com
Here are some free printable Paw Patrol water bottle labels!
Use them for water bottles, but also to decorate favor bags or other treats.
Photo Credit: www.wholesalepartysupplies.com
You can never get enough free printable coloring pages!
Here's another set of Paw Patrol coloring pages...simply print out at home on regular paper or cardstock, add some crayons, and you've got a simple, yet fun, activity!
Did you find a Paw Patrol printable for your next party or get together? I hope so!
Thanks so much for reading all about our favorite Paw Patrol Printables! Have a great day!