Sharing some fun crafts and ideas for your Fall Festival, including a DIY Popcorn Bar, Pumpkin Painting, Candied Apple Bar and more!
Crisp air, bright colored balloons and the smell of carnival food permeates the atmosphere. The trees are turning spectacular shades of orange and gold, the aroma of bonfires is in the air, and the fragrance of pumpkin spice is coming from everybody's kitchen.
It's that time of the year again. It's time for the fall festival where family, friends and communities congregate in celebration of the change of seasons.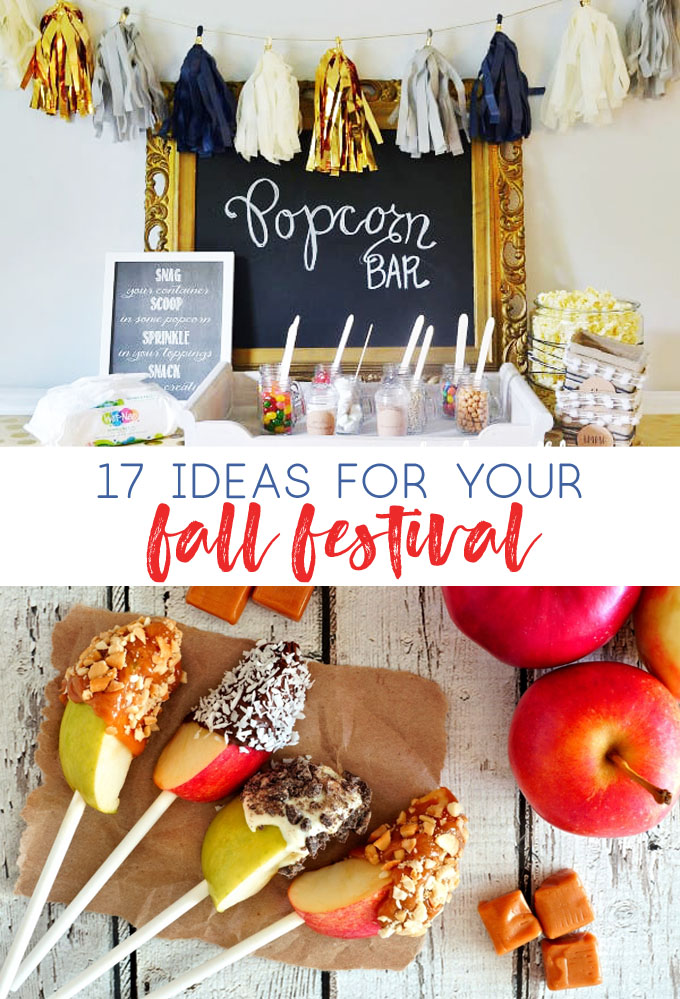 Your fall carnival may be for fundraising, for your school, church or part of a huge community event. If you're involved in the planning of the carnival, here are a few tried and true ways to make your Autumn Fair Fantastic.
T-Shirts for Volunteers
Make sure everyone who works on the committee has t-shirts that associate them with the volunteer party for the Fall Carnival. These shirts will enable carnival-goers to easily identify those who can assist them with directions, activities or assist in the case of an emergency.
Buy wholesale t shirts and pick a color scheme and a design associated with your Fall Festival. You can change it every year. The best part is that the volunteers get to keep the shirts.
Food Court
Set up a food court area with tables and chairs. You can easily rent them. If it is warm in your area, add a tent, and if your carnival goes into the evening, you can light up the tent with string lights. These lights will offer a great area for carnival-goers to take a load off and stay out of the sun.
Candied Apple Bar
Set up a candy apple bar. Slice apples and put them on a stick. Put out decorative containers, such as plastic mini pumpkins or little tin buckets, filled with store-bought caramel, peanut butter and Nutella.
Tip: To keep apples from turning, brush them with lemon juice or soak them in ginger ale.
Offer other bowls filled with nuts, sprinkles, mini marshmallows, chocolate chips, coconut and graham cracker crumbs for dipping. The options are endless. Or consider a Popcorn Bar…
For an unforgettable Popcorn Bar, rent a popcorn popper and buy some bags. Set up tins with tiny scoops and fill them with chocolate chips, marshmallows, M&M's, Reese's Pieces, bacon bits, pecans, walnuts and anything else you can think to add.
Let the carnival-goers tell you what they want or let them serve themselves. A Popcorn Bar is a fun and festive idea for fall or anytime of year!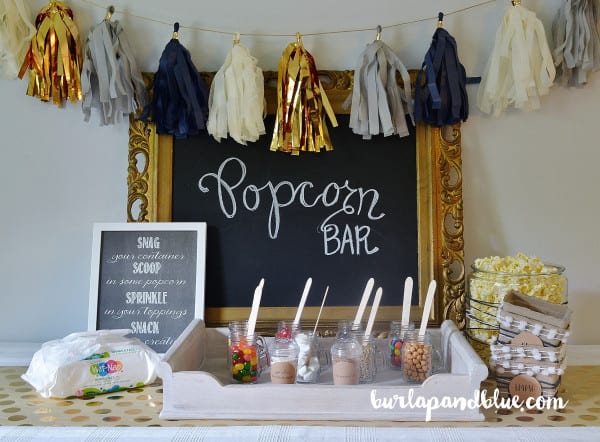 Pick a Pop
Get a nice, round pumpkin and drill enough holes to hold your lollipops. Mark the bottoms of some of the pops with a marker. Players get three chances to pick a colored pop. The color of the mark on the bottom of the stick will determine the prize, and even if they don't get a pop with a mark on the bottom, they get to keep the lollipop. It's a win-win for all.
Cotton Candy in Orange and Green
One of the most popular foods at a carnival or fair, cotton candy is a true crowd pleaser for young and old alike. Rent a cotton candy machine and purchase colored cotton candy floss sugar to match your theme. The floss sugar comes in a multitude of colors from orange, green, pink, purple and blue.
Pie Eating Contest
Falls is an awesome time of year to make apple and pumpkin pies. If you have a booth that sells baked goods, consider setting up a pie eating contest nearby. Ask people or bakeries to donate pies for the contest. These donations will help keep expenses down.
Pumpkin Carving Contest
Set up a display for contestants to bring in their pumpkins they carved at home. Set a time to announce the winner. Let the carnival-goers stroll by and place a vote in a decorated barrel as they day goes on. Tally up the votes and announce the winner.
Fall Photo Booth
This is so easy, you won't even need a camera. Simply stage the scene with leaves, bales of hay, pumpkins and whatever else goes with your theme. Add a few props for fun. Let the carnival-goers use their phones to snap photos and share on social media.
Witch Hat Ring Toss
Glue 5-6 tall black with hats onto a decorated orange board. Tip: If using fabric store-bought witch hats, place the hats over soda bottles to keep them standing up. For the rings, you can either purchase them or make them out of jumbo pipe cleaners. For a smaller children's version, you can make your own. Don't forget to check the dollar stores for supplies.
Decorating Your Own T-Shirt Booth
Set up several tables, some for the actual painting and some for the drying. Purchase several dozen (depending on the size of your fair) wholesale t shirts in various sizes. Set out fabric markers and fabric paint, along with some fall-related sponge stamps (all can be found at your local crafts store). Display some sample ideas printed off the internet and let the fun begin.
Scary Hair
Purchase temporary hair color spray in different colors. Have someone in a booth ready to paint everyone's hair in what they think will be scary. This stand is great when set up next to the face painting booth.
Guess My Weight and Guess How Many
Set up a spot for the largest pumpkin you can find. Let carnival-goers guess how much the pumpkin weighs.
For "Guess How Many," fill a large glass container with candy corn and put out a decorated box. Have little forms put out requiring names and their guess of how many candy corn pieces are in the container.
Pumpkin Painting
Much easier than carving with sharp knives and dealing with the mess of pumpkin carving, pumpkin painting is an easy alternative. Place pumpkins of various sizes out for purchase. Set up a table, properly covered, and put out some paints and brushes. Let the creativity flow. See some creative pumpkin decorating ideas here! And another fun pumpkin decorating idea (with mod podge)!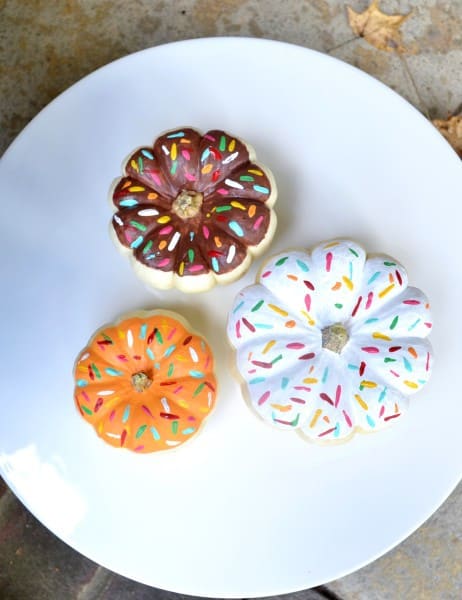 Bounce House and Ball Pits
All kids love bounce houses and ball pits; some adults do, too. They provide kids a safe place to burn off some energy and allow the parents a moment to catch their breath.
Football Throwing
Fall is the season for football. Let the football fans test their throwing arm with their friends. You can rent an electric football throwing machine to challenge participants and create a competitive atmosphere.
Show a Movie
Show It's a Great Pumpkin, Charlie Brown or other family-focused fall season movies. With a little know how, you merely set up your DVD player into a projector, connect the audio signal to the speakers. You can rent a screen for a professional outdoor viewing party!
Thanks for reading all about our DIY Popcorn Bar Plus 16 More Ideas to Make Your Fall Festival Fantastic. Have a great day!