Love the look of geometric decor? Today, I'm sharing ideas and inspiration for geometric home decor! Read on to see how you can add this modern and fun style to your own home!
Geometric decor is popping up in homes in small and large doses! You can normally find trendy designs splashed across walls or woven into baskets. Furniture and rooms with geometric decor features lots of sharp lines and unique shapes and patterns.
Throwing in some thoughtful elements here and there is a great route to take so you can you don't overwhelm guests with a room full of heavy patterns!
For example, you can style a plain couch with a mix of geometric pillows in a variety of coordinated colors. A cohesive color palette paired neutral surroundings greatly balance out any bold patterns, even if they don't directly "match."
This combination of bold and subdued can really amp up your style in any room! Mixing this design element with other pops of patterns can greatly pull a room together.
Another way to keep a nice balance with your geometric style is by mixing textures and fabric! Soft pillow cases with bold patterns contrast well with other furniture made of natural material like wood and wicker.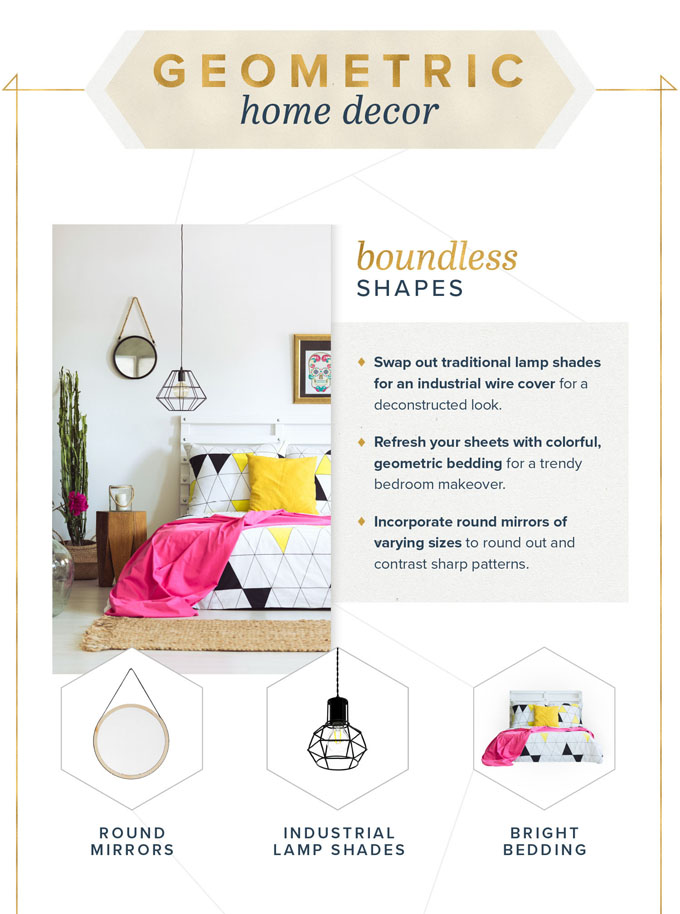 Metallic and more industrial pieces also work well with geometric style. For example, more industrial and exposed lamps usually ushers in a unique look.
Try experimenting with different sizes and shapes for your lamp shade along with fun light bulb shapes and colors! This can especially elevate your living room or bedroom decor.
Other ways you can incorporate a more modern feel with an industrial style is by using metallic mirrors in different shapes. You'll easily find round mirrors at most stores and these pieces can effortlessly blend in to any part of your room. If you want a more distinct look, try getting a mirror in a funky shape!
Beautiful sunburst mirrors, for instance, still take on a round center, but create a beautiful focal point with their (literally) outstanding shape and shiny material. You can also find mirrors that resemble gems, geodes and puzzle pieces.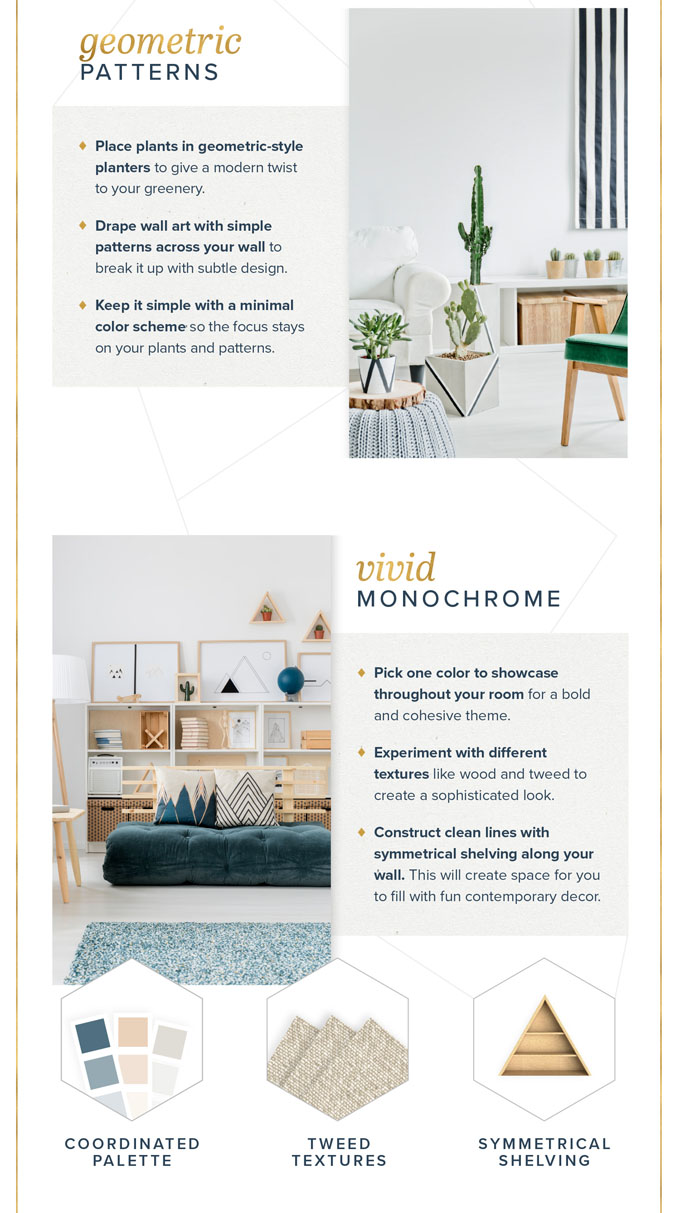 If you're still looking for more industrial geometric decor, consider using pieces made of concrete or stone! These natural materials can work well if you find pieces that are smooth, clean and even have room for a few enhancements. You can add a patterned placemat to a stone table or add some fresh plants or flowers in a concrete planter. You're only limited by your own creativity!
You don't always need to go out and find geometric pieces. With a little creativity and some patience, you can actually create a few pieces at home! DIY geometric decor is great if you want to have complete control over your home decor and add some personal flair to your rooms!
Wall space is a great area to start. You can paint a few clean lines on your wall to create a contemporary focal point for your living room. You can also draw, print out or design a few shapes and patterns for some contemporary geometric wall art!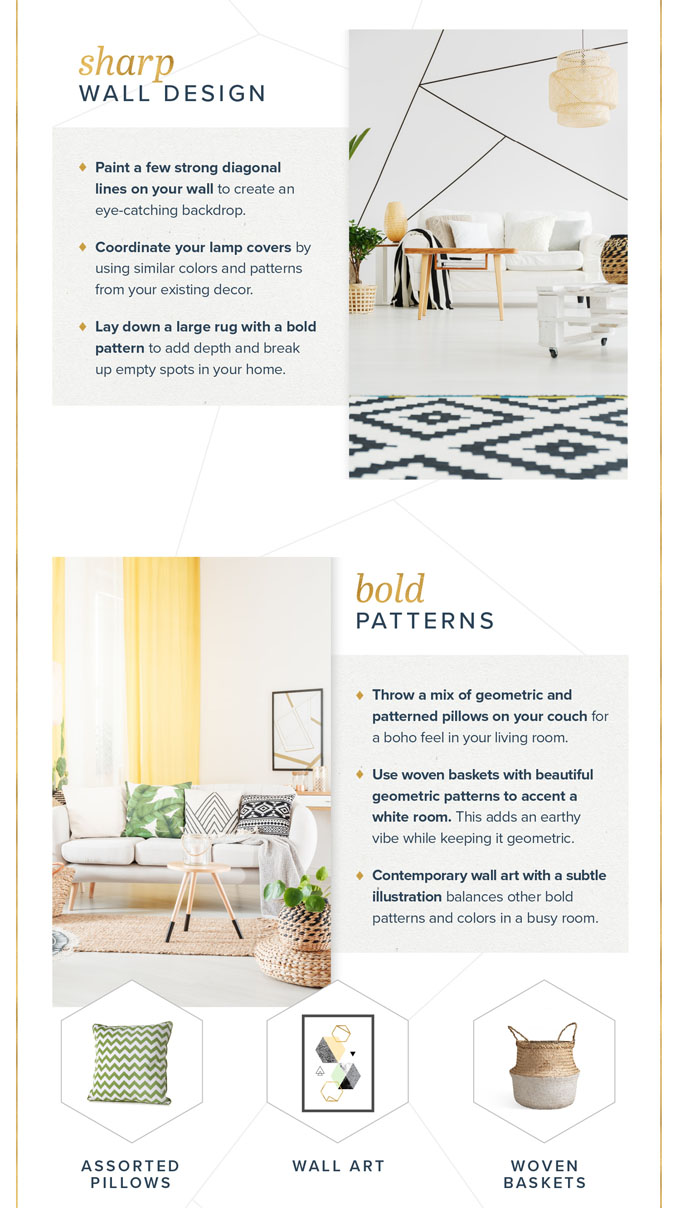 There are lots of free patterns available online that can match any home decor style and give you some inspiration. If you're feeling really crafty, you can even put together some simple wall shelves in simple shapes, like square and triangles, so you can artfully display your plants and trinkets to your friends!
With so many options to choose from, it's hard to know where to start! ProFlowers put together a few ideas for including geometric decor in your home! They gathered a few different rooms and pulled out decor elements from a couple so you can see how to get the look.
Their guide also has a handful of styling tips so you can see how you can mix and match different elements. Take a look at their visual guide to see what ideas you can take away for your home!

Thanks for reading all about Geometric Decor Ideas for the Home. Have a great day!